By Amanda Jackson
I met up with Briana Tucker and Travis Wakeham, the couple behind the Keweenaw's first zero waste refillery, Refill U.P. While the refillery business idea is not high-tech like the typical MTEC SmartZone client, they did bring the can-do attitude and positivity needed to see a business idea through. It can be quite a challenge to start a new business and open a store while also working another full-time job, but they managed it all within a year. This month, they are excited to be celebrating the one-year anniversary for the store located in Hancock. It wasn't always an easy road, but here is the inside scoop on the owners and their business journey thus far!
Where are each of you from and how did you end up in the Upper Peninsula?
Bre: I am originally from the greater Detroit area, specifically Macomb County. When I was deciding on a college, my dad brought me to the U.P. to visit Lake Superior State University, Northern Michigan University, and Michigan Technological University (MTU). I just happened to fall in love with Michigan Tech! I was able to meet some cool people right away, and even though I am much more of a self-proclaimed indoorsy person, I chose to come to MTU. It felt right and provided me the in-state tuition option I was looking for along with some distance from home. I moved to Houghton in 2010 to attend MTU and studied Communication and Media Studies; later graduating in 2013. I then left the area for a few years to pursue a Master's in Student Affairs in Higher Education at Indiana University of Pennsylvania but returned to the area in 2016. Currently, I work at Michigan Tech as an Associate Director for the Enterprise Program.
Travis: I was born and raised in the Keweenaw! I graduated from Houghton High School in 2010, then studied Biological Sciences at Michigan Tech. Funny enough I didn't meet Bre until she returned to the area in 2016, even though we went to college at the same time! I currently also work at Michigan Tech, serving as an Assistant Teaching Professor and Academic Advisor in the Department of Biological Sciences.
So, what sparked the business idea for Refill U.P.?
Bre: It all started with a New Year's resolution to simply be more sustainable in our own home. It was a vague goal, but we wanted to find simple and efficient ways to reduce our waste without building unrealistic expectations for ourselves, and without breaking the bank. I knew we could use less plastic and change to better, more natural, products. I learned a lot on Instagram, like how to reduce waste created by refilling rather than making new purchases. We started small by introducing cloth produce bags and reusable napkins and went from there. I knew my family was starting to understand how important this change was to me when I received silicone sandwich bags as a gift. (Which I was very excited about!)
Travis: As we researched different products to use, we discovered some things could be found locally, but other items had to be ordered online. After considering the long shipping times (due to COVID-19) and all the resources it would take to deliver just a few items for our single household, we started to think there had to be a more sustainable option to buy everyday essentials that were package and plastic free. In addition, we knew we couldn't be the only ones in our community seeking to live a more sustainable lifestyle, right?
So how did you go from concept to business?
Bre: I asked Travis to sit down so "we could talk…" (*Bre laughs) I probably shouldn't have phrased it that way as I might have scared him for a second, but I then blurted out the idea of opening a refillery business together and he was very supportive.
We talked through lots of questions and different scenarios. We knew we needed mentors from the beginning so we could learn how to launch a startup. Our first step was to sign up for MTEC's SmartStart program and go through the learning process that offered. This program was a big help in setting up our business framework, customer discovery, and encouraged us to network with similar businesses. I took a trip down state to visit several refilleries and meet the owners, many of which were also women. I think connecting with them, seeing their success, and hearing what lessons they learned along the way really helped.

Travis: We also had a mentor from the Michigan Small Business Development Center (MSBDC), Daniel Yoder, who shared great information and advice. He always had our best interests in mind and continues to connect us with valuable resources as we grow.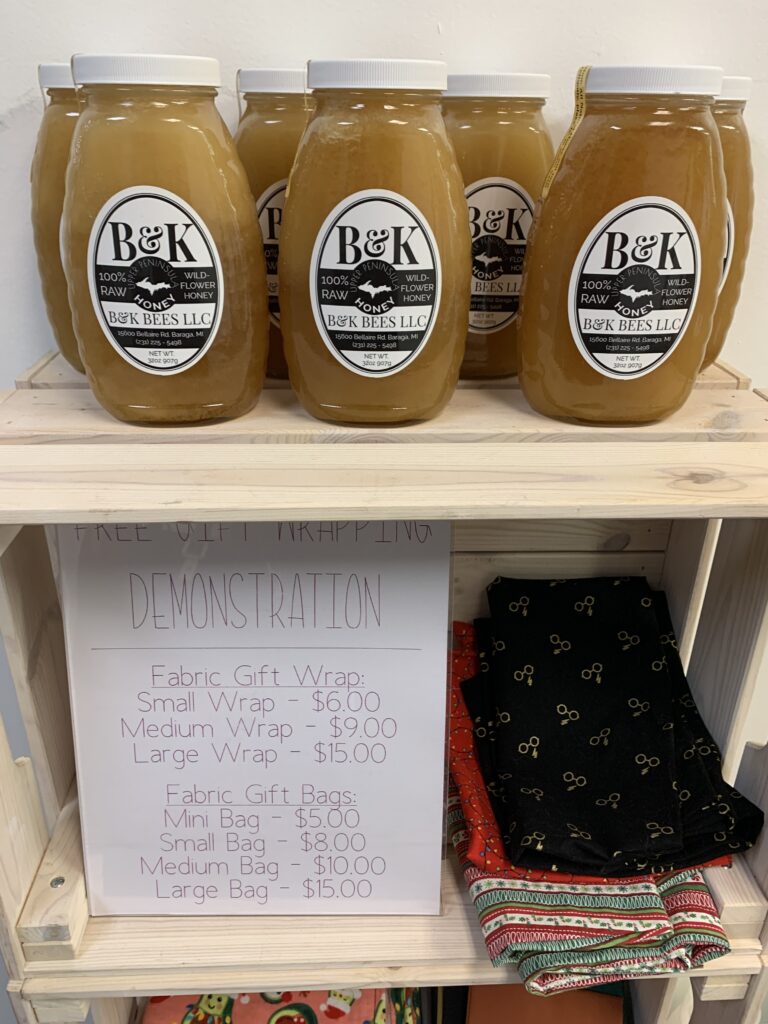 What are your products and the benefit?
Bre: We are a zero/low waste business that consists of refill stations and plastic free products for everyday needs. We carry both home and body care products (hand soap, shampoo, conditioner, shower gel, lotion, cleaners, laundry detergent, etc.), produce bags, and reusable cloth products. We carry sustainable products made out of bamboo; things used every day that are often in containers but free of the extra plastic. Our products are made from natural ingredients that don't have the toxins like sulfates and parabens. We also carry many unscented versions, which are preferred by folks with allergies.

How do you market your business?
Bre: We started by selling items at local Farmers Markets. We like to be very present in the community and still attend these markets but have also worked with the MTU sustainability house and Students for Sustainability. Social media has also been key for us as we build followers who will engage with our posts and share our business through word of mouth.
Did you always want to start your own business?
Bre: I originally found the SBDC through a workshop for selling art. I thought someday I might have a business for graphic design work, but now feel creating with the pressure of clients too stressful.
What about you Travis, was a startup always on the to-do list?
Travis: Not completely. It was a real leap of faith for me to go through with this process, but I have found enjoyment wrapping my mind in new types of challenges and utilizing more of my creative skills. I am a teacher turned back in a student!
Who helped or mentored you along the way?
Bre: The MTEC SmartZone SmartStart program as mentioned before, and Michigan Tech's Mary Raber and Lisa Kasper also had insight for us through Husky Innovate. Daniel Yoder was a huge help from the SBDC. We still check in with him every couple of months. Also the refilleries I visited like Walking Lightly in Ferndale, MI were helpful and also offered a visual for my family as to what we were trying to accomplish.
Travis: A lot of our friends and family also helped with getting the store open by covering shifts and sharing their talents. All of the furniture in the store was built by our friend Michelle Jacob for example. We started our business with just money from our stimulus checks, so a lot of sweat equity was needed to get to where we are today.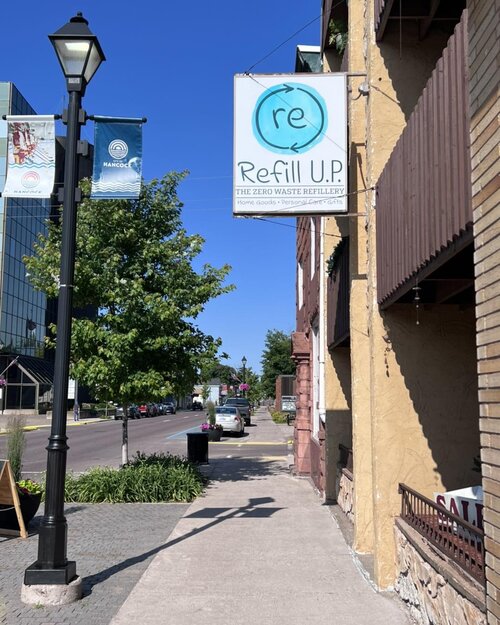 What was your biggest challenge in opening the doors?
Bre: For one, it is hard to explain the store and much easier for people to see it. It was a challenge to get people to understand the concept of our market and that other small businesses are creating our products with sustainability in mind. Not only are they great products for your body and home but they are sourced in a responsible manner. We even reuse containers with the vendors that fill our store supply.
We also experimented with what types of products to carry and where the gap in local availability is. For example, the Keweenaw Co-op used to have some sustainable options that they no longer carry, so we were able to fill that need.
Travis: Finding affordable retail space downtown was also a challenge. We did lots of networking to find spaces that were options with visibility.  Also, to be honest, it was difficult to balance our full-time jobs with starting a new business. We had to sacrifice a lot of weekends and free-time to open the doors.
How is business going?
Bre: It's going well! We opened the store just over a year ago (October 16, 2021) and I still have a wish list, but it's been good to see what a calendar year looks like for sales. I am proud that we were able to open our doors and always glad to see repeat customers at markets and in-store. We are currently open two days a week, but I would love to see what it could look like to be open more days in the future.
Travis: There are still lots of questions, like 'when do we scale up? Could this be a fulltime job for us or employees'? We will take a good look at our options after seeing one year of sales and discuss the future plan.
So what's next for the refillery?
Bre: Pie in the sky dream would be to have the store open daily and expand with more storefronts across the U.P. Short term would be to expand our refill options for customers.
Travis: Also looking to expand to an online marketplace or implement pick-up options. It becomes a balancing act between the financial benefits to expanding vs keeping to our mission for the store.
What advice would you share with future small business owners in the U.P.?
Bre: Experiment and test what you want to do first. For our business model, attending the local Farmers markets was a good test run. Find ways that you can prototype and be ok with the fact that it won't be 100% on day one. It's a process.
Travis: I agree, experimentation. The best way to try something, is to just do it. Take time to reflect after and evaluate what you learned. And networking is also key. The contacts and resources we made through MTEC SmartZone and other businesses have been a tremendous asset.
Bre: And be sure to find a business partner that balances you out! If you know there are specific skills that you lack, find someone that can offer that. It will only make your business stronger.
Learn more about Refill UP and see a complete list of products at refilltheup.com or follow them on Facebook and Instagram (@refilltheup). Refill U.P. is located at 323 Quincy Street in Hancock and is open on Saturdays and Sundays from 10 a.m. – 4 p.m. Please bring your own containers, or you can purchase reusable ones in-store, and make sure to say hello to Travis or Briana on your next visit. In Briana's words, "Refill U.P. isn't about being a perfect zero waster. It's about making small changes today that lead to a better tomorrow."