The Keweenaw Community SparkPlug Awards are an annual community celebration that recognizes local businesses, organizations, community projects, and individuals for their efforts during the past year. The awards are given in eight different categories and the nominated individuals or companies for each of those categories are submitted by the community. The 2022 winners were announced at a dinner on May 2, 2023 at Michigan Tech.
The Award Categories include: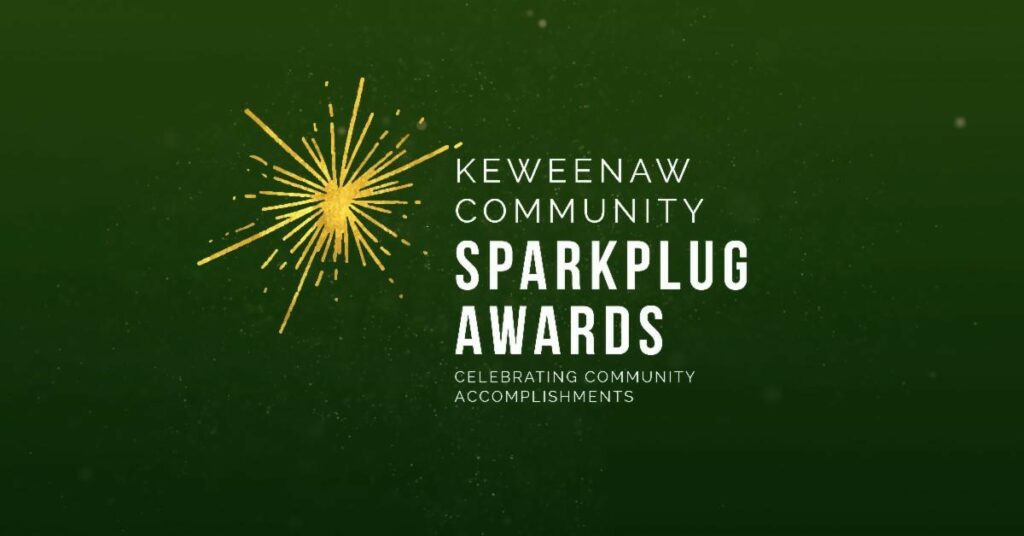 Growth – Company that has seen significant growth in employment and/or sales during the previous year.
Customer Service – Recognized by the community, other businesses, and customers for providing superior customer service.
Innovation / Transformation – New or existing company pursuing new products or services that hold great promise for local economic growth and employment.
Project of the Year – A high impact project that is notable within the community and will provide lasting benefits to businesses and community members.
Young Professional of the Year – A person under the age of 40 who made significant strides in our community and in their profession during the previous year.
Community Contributor of the Year – A individual or organization that has made significant strides in the development of our community.
First Responder of the Year – A first responder that went above and beyond to help keep our community safe during the previous year.
Youth Contributor of the Year – A school-aged individual that helped spark an improvement in our community through community service during the previous year.
MTEC SmartZone Client Awardees
Steelhead Technologies, a software company servicing the process manufacturing industry with an ultra-modern management system, was presented the 2022 Award for Growth. Steelhead Technologies started small with only 1 or 2 customers in May 2021 and has grown significantly in the last 2 years, now serving dozens of customers across the United States and Canada.
Waldo Soluntions, Inc, a communication, real-time inventory, and job board app and platform for the logging industry, was presented the 2022 Award for Innovation/Transformation. Waldo's chain-of-custody platform and mobile app enable seamless communication for improved planning, control, transparency, security, and reporting.
This event is organized and hosted by the Keweenaw Chamber of Commerce, Keweenaw Young Professionals, Portage Health Foundation, MTEC SmartZone, and Keweenaw Economic Development Alliance.