By Amand Jackson
It's not every day that someone can take a passion or hobby and turn it into a successful business venture, however, for the founders of ProNav Marine, that's exactly what they did.  I sat down with Travis White from ProNav Marine to learn a bit more about the people behind their business, what challenges they faced as a startup, and what's coming next for the world of fishing. 

Where are you from and what brought you to the area?  
Travis: I grew up in the Sault St. Marie, Michigan area and always had a strong liking for math and tinkering with building things. I first came to Houghton, MI to attend Michigan Technological University's (MTU) Summer Youth Program in Engineering. This program was one factor in my decision to later attend MTU, along with the ability to still be in the Upper Peninsula but not be at home. Then in 2007, I moved to Houghton to pursue a degree in Mechanical Engineering at MTU and well, I never left.
After graduating, I was given the opportunity to stay in Houghton and work at GS Engineering doing product development. I worked at GS Engineering for 8 years and it's where I met both of my future ProNav business partners, Neil Anderson and Nels Benda.
What sparked your business idea?
Travis: Fishing is a passion of mine. I started as a fishing guide while in college and took people out fishing on the Great Lakes. I loved being a charter fishing captain and I learned a lot about fishing by just spending time on Lake Superior exploring and fishing. I then met Neil Anderson while working at GS Engineering and we would head out fishing together after work. While fishing, we often had brainstorm sessions about technology that existed for fishing at that time, like trolling motors and fish finders, and that's how we came up with the idea for Pro Nav.
While the technology of using electric motors with GPS was not new, its enabling fish finder part was big and bulky to use. We thought, "Why do we need all that when everyone already has a smartphone that could be used instead?" It made sense to use mobile technology as a screen to control your boat on autopilot. Plus, then it could be affordable and accessible to more people.
What is your product and what problems does it solve?
Travis: The ProNav™ Angler is a smart, GPS-guided autopilot system that connects to the shaft of your bow mount trolling motor and allows you to easily control the motor from our Angler App and Motion Controller handheld remote. It's designed to let anglers focus on fishing, not fighting to keep their boat on course.
Did you always want to start your own business?
Travis: Yes, I did. During my time at Michigan Tech, I was in the entrepreneur's club and Bob Mark was the advisor from the school of business. Bob Mark was a truly great mentor and I think he gave me the business bug. I found myself sitting in my engineering classes daydreaming about inventions. It was a great club and I met lots of business-minded and motivated people through that experience.
Sounds like you made some great connections, who helped you along the way?
Travis: Right around the time Neil and I were discussing our fishing GPS system idea, MTEC SmartZone's SmartStart program had open enrollment for their next program. Neil and I enrolled to take the class together and develop the idea further. Week 1 into that program we realized we didn't have the technical skills to make it happen and identified another partner with the background we needed. So, we recruited Nels to join us, and he too attended the program. During that program, we fleshed out the business model and identified our customers. Part of the program is a pitch event and we received lots of positive feedback on our business idea, and from there had to decide, "Do we pursue this?". We agreed to move ahead, make a prototype, and pursue this as a business.
MTEC SmartZone also offered guidance in making meaningful partnerships and finding services like legal, intellectual property, business establishment process, financial planning, investment raising, and more. Had it not been for all that help and mentorship we might not have decided to act.
Another program was the Michigan Tech I-Corps program. I didn't attend it for ProNav specifically, but the process was a great education for building a proper business model. We also received support from the entrepreneurial community at Michigan Tech. Professors and Michigan Tech staff including Jim Baker and Mike Morley helped with patents and securing Intellectual property, which was a big step.  Also, our employer, GS Engineering, was accommodating to us three pursuing a side business and allowed us to work on it outside work. 
Did you receive any funding help or grants for your business?
Travis: In 2016 we secured our first Business Accelerator Fund (BAF) through the Michigan Economic Development Corporation with help from the MTEC SmartZone team. We had a prototype and were ready to launch to the market. This funding provided the marketing services to help improve our website SEO, product videos/packaging and establishing our Brand Ambassadors. We received a second BAF in 2018 that helped us with marketing services to promote our brand in a new industry, launched the motion controller, introduced interactive web-based tutorials, and a product demonstration program.
What was your biggest challenge?
Travis: Product development was a challenge in terms of figuring out when to go to market. We might have jumped to market too soon, but the biggest challenge was finishing the product to 100% so it was functional and easy for customers to use.  We provide our own customer service on our products to make sure there is a good connection with customers. Plus, knowing how they are using the product and what types of issues are coming up is vital. We learned a lot in the early launch and fixed each bug and glitch that arose to get everything to the foolproof point we are at today.  It was a lot of sweat equity, and we used our limited finances strategically to get what we really needed done.
Sales and marketing are still a challenge for us, as it is for many small companies. How do we capture every potential customer so they 1) know about the product and 2) make the decision to buy it? Our challenge lies in the fact that we are in an industry where our marketing budget is much smaller than our competition's budget.
You were a busy person to get in touch with, does that mean business is booming?
Travis: Business is going well. We kept on a level trajectory the last few years and saw a spike in sales when there was a move to outdoor recreation activities during covid. We saw more customers and new customers during the pandemic and are still selling well. Our direct-to-consumer selling model is a good fit for us but could be holding us back a bit.
We have found some new markets with MarkSetBot (Robotic Buoys). These Robotic sailboat racecourse markers are using our technology and controls and sourcing our GPS components.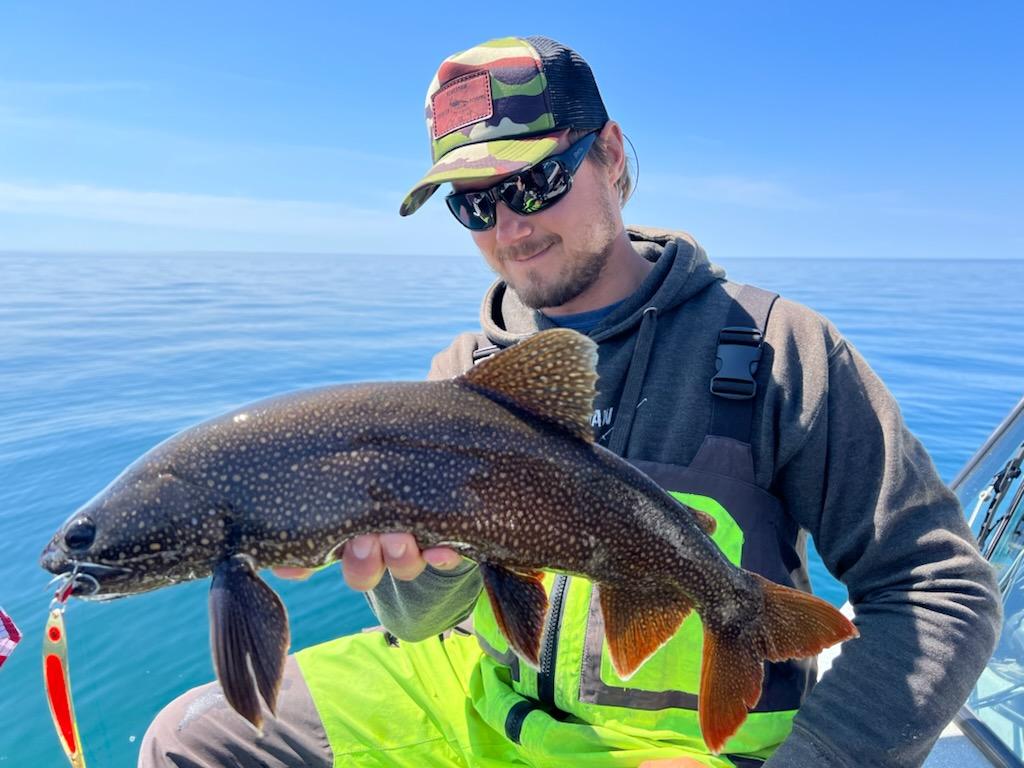 What is next for ProNav?
Travis: We are looking to diversify who we are selling to, like OEMs in the industry. Currently, we are working on developing some alignments with other companies in the industry and have a big launch coming soon (within the year) that is a collaboration with a big original equipment manufacturer. Plus, we are always brainstorming creative new ways to build other revenue streams using what we already have developed.
What advice would share with future small business owners in the UP?
Travis: If your line isn't in the water, you're not fishing. I know it's cheesy but don't be afraid to try, worst case scenario you are just back to where you started. My business adventures have offered me many more gains in experience, learning about business, and relationship building. It has helped me develop skills I have used in other professional endeavors and offered me some new friends along the way. You can't see exactly where it will take you in five or even 10 years, but you will get what you put into it. And for me, it's been a great experience.
Learn more about ProNav Marine fishing products online at pronavmarine.com.  Or perhaps you will be lucky enough to meet Travis while out fishing on Lake Superior one day. Either way, he is happy to answer any ProNav (and maybe some fishing) questions.