By Amanda Jackson

If you've met Jake Northey, you know he has lots of experience in the business of starting up businesses. But being an entrepreneur can have its highs and lows, and sometimes when things don't work out it's not necessarily a failure. I sat down with Jake to hear about his entrepreneurial journey thus far, and what the next business will bring to the community.
Could you just share a little bit about yourself?
Jake: We moved to the Upper Peninsula from Indiana when I was 13 years old when my mother took a teaching job at Michigan Tech. I immediately fell in love with the area, the Keweenaw is a gem. I started doing a lot outdoors like mountain biking and hiking and just loved it. I attended Houghton High School and graduated in 2000. At Houghton High, I was doing a dual enrollment with Michigan Technological University, so it was natural for me to stay at Michigan Tech for college. I looked at other universities but had some credits at Michigan Tech and did end up getting a full ride scholarship there.
What did you study at Michigan Tech?
Jake: I ended up getting two bachelor's degrees, one in computer science with a software engineering focus and one in bioinformatics. The bioinformatics program was new when I was at Michigan Tech. It was a very exciting field, but after graduation there weren't a lot of job opportunities in the Midwest at the time. So, I ended up pursuing Software Engineering for a career instead of Biotech.

So, no business classes? How did you go from computer science to launching startups?
Jake: I have always been entrepreneurial minded. When I was nine years old, my friend and I would discuss business ideas on the way to and from school while carpooling. One idea was to create a summer-only theater where we'd sell snacks and tickets. We had all these ideas we thought were so great, so that entrepreneurship side was always there, it just didn't really develop until later.

After Michigan Tech did you work in industry at all?
Jake: After graduation in 2004, I went straight into working in industry. The day after Christmas I drove down to Chicago for my first job working as an Application Developer at ThoughtWorks. It was a great first job, but after a year and a half I felt, the role wasn't suited to my full skill set. I was getting antsy and wanted to do something more. That's when my entrepreneurial gene kicked in and I started going to the library to read books on entrepreneurship and began brainstorming business ideas.
I decided to leave my first industry job to start up a company with no business plan, only an idea. I just started coding and building a product. I discussed it all with my father, who also hit an impasse at the company he was working at, and he said, "Well what if I joined you?"  He had a big network from spending a career in electronic trading. That's how Lasalletech began. After a couple of pivots, we ended up building products for testing, certifying, and monitoring electronic trading messaging applications. The most successful product was a client portal for brokers and exchanges to certify and onboard their trading counterparties.

Who else helped you along the way?
Jake: That's where MTEC Smart Zone first came into the picture. We were able to get office space in the Jutila Center to operate out of. We had come up with a good product, had a niche, there was a strong market and we focused on serving that market.  After a decade building that company and growing, we exited with an acquisition by CameronTec Group which was backed by Nordic Capital.

What was the next for you?
Jake: I had already been thinking of new company ideas and the next one was a local social networking app similar to Nextdoor. We started development but after a few years realized it was going to be a high-risk high-reward type of thing with a very long path to monetization. It would be hard to execute so we pulled the plug and agreed that it was not something that's going to work.
Looking back now, it was a great decision. The Company Nextdoor was funded for over a decade with a dozen rounds of funding. It would have been a long road.

How did 101 Quincy Coworking get its start?
Jake: At Lasalletech we had a tight team, and after the acquisition being a solo entrepreneur again was disorienting. At the time I started getting involved on campus more. While talking to students in the entrepreneurship club at Michigan Tech about their ideas and businesses they were working on a few had expressed interest in having space to work on their ideas. I had more than enough space, so I offered to let them work out of my office in Hancock. We made it official at $50 a month and it became a coworking space. I had always entertained the idea of a coworking space, but this wasn't planned out, it just kind of happened.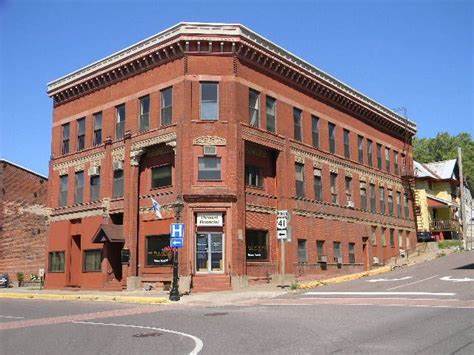 Has the building had renovations to set up the coworking space?
Jake: This building has a long history; all the way back to the mining days when lawyers who worked here were involved in the Quincy Mine strike. Before we owned it, the Wisti family put a lot of work into this place. We had been looking for an office space for Lasalletech and the opportunity to buy the building came at the right time. My parents formed an LLC, Northern Perspectives, to purchase the property and Lasalletech had an office on the second floor. Early on we investigated grant funding options for restoration of the entire building, but the project would have been larger than we were comfortable with at the time. We ended up doing updates ourselves and are still making updates to the space now. It's come a long way and we have had lots of help.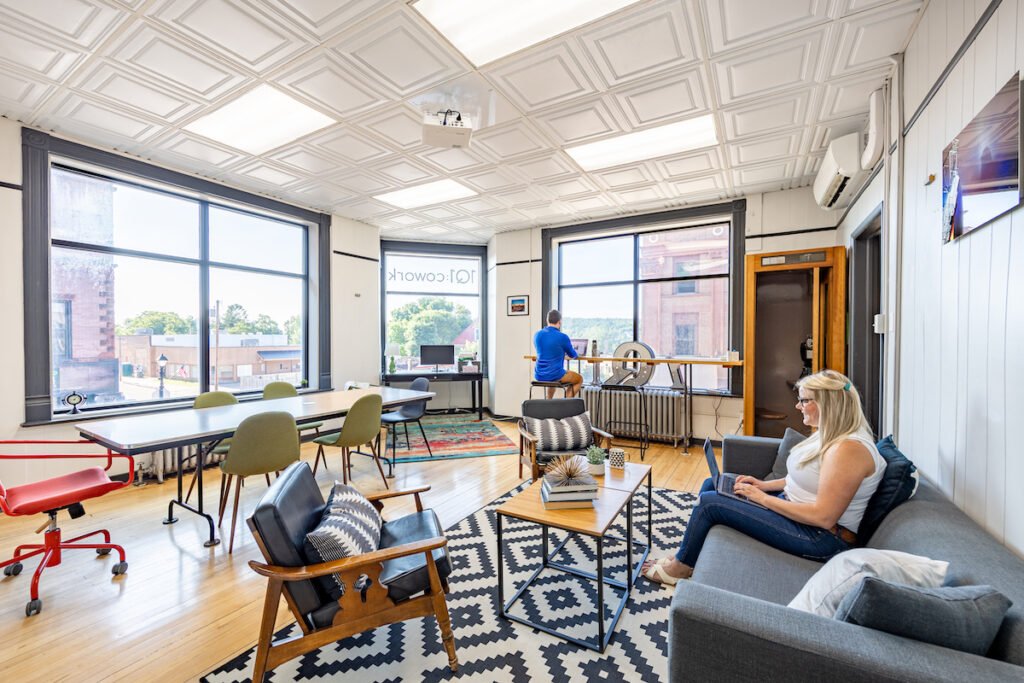 A few months after the students from the entrepreneurship club joined me in the space, I was introduced Lynn Makela at KC Bonkers. She was talking to someone about needing a coworking space in the area, and I mentioned that I had one set up unofficially. She took a look and immediately had ideas to make the space work. She really had the vision for what a coworking space in this area should be and made 101Quincy Coworking what it is today.


Can you tell me more about what Creative Mines is?
Jake: Creative Mines started when I was reflecting on what comes next. The thing I enjoyed most was building digital products with other talented people. So, we started Creative Mines, a software studio, out of that need and to have a day one profitable. We focus on building exceptional digital experiences for companies that need experienced developers.

There are a million software agencies out there so there is lots of competition. We had to figure out how we were going to be different. We are experts in software processes like continuous delivery, which is a process to automate deploying software updates so that you can release frequently. For us we found that we had the experience of doing everything for clients, from design to executing the product and getting it up and running.

What is your newest company idea?
One thing I have noticed in talking to local entrepreneurs is that it is nice to be in a small community. You can make connections easier, and it just feels like a connected neighborhood. The barrier to chatting with someone is small and we have lots of entrepreneurial minded people here. Ten years ago, for an engineering professional to live here you had to create your own job. Now with remote work there are more opportunities for people to live and work here. This area also has a good number of active entrepreneurs for its size. A common conversation that I've had with business owners of all types of businesses is around automating their operations and creating exceptional digital experiences for their customers. It became clear that small businesses needed a process management tool and a modern client portal for their customers.
Before the industrial revolution, people made things by hand. With the introduction of the assembly line, it no longer made sense to run a manufacturing business without using one. You just weren't as effective or efficient and couldn't compete. Today you wouldn't create a factory without an assembly line. Yet for most service-based businesses, everybody is doing everything at these businesses in their own way. Service businesses need their own assembly line and that's what we are doing now with Runway. Setting up those everyday processes to run more efficiently. Runway is essentially process automation software for small and medium-sized businesses that makes responding and delivering to customers efficient through an enjoyable digital experience.

We first started with high-tech incubators. After a round of customer discovery we found that independent insurance brokers have frequent, repetitive, and disruptive tasks that require immediate attention. They have requests for policy cards, proof of insurance, and certificates. They have been doing this manually by fielding requests through phone, email, text, and even fax. We identified this as an opportunity to create an assembly line to allow these independent insurance brokers to fly on autopilot. That is what Runway is.

What has been your biggest challenge?
Looking at Lasalletech, it was bootstrapping. Bootstrapping is great because you stay independent and flexible, but the challenge is your businesses cash flow. You must always balance. When we sold Lasalletech it was a validating moment. We created something with our own resources that was valuable to the marketplace and to others. But it was also a relief.  I also learned there are some ideas you cannot bootstrap, and you absolutely must get funding to do them. Creative Mines is another bootstrapped company.

So where have you in all your endeavors received funding, help, or support?
MTEC SmartZone has been the biggest help. When Lasalletech was just starting they provided office space in the Jutila Center. This gave us high-speed internet in a great space at an affordable rate.  Former CEO Marilyn Clark helped us get training for sales and we were able to get a $45,000 Business Accelerator Fund Grant. That grant allowed us to market more effectively in new markets. A few weeks after we made those changes, we saw an immediate return and landed one of our largest customers at the time. We also got a loan from Houghton County and that helped us grow the company.  With Runway, this will be the first time we are going to look at equity-based financing for the company as it grows.

What advice would you share with the future entrepreneurs in this area?
I think the big thing for entrepreneurs in this area to know is that there are a LOT of resources available. It can be overwhelming just knowing all the places that can help you with debt financing or equity financing. You can always start at your local SmartZone and get pointed in the right direction. It's nice to have that central hub to get you connected to others and the right resources for you at that stage in your business growth. Also, use your network. Tell people what you are trying to do, and you will be surprised how many people have a great idea to share or just want to help you out and join in that journey.
Your success will be directly proportional to how many people you bring along with you on the journey. Now that doesn't have to be employees, it can be people that are supporters. I think entrepreneurs should move back to their smaller communities where they have those people to support them. In this area I found that supportive community.

What do you wish people knew about your business?
Runway is new and we have been building it under the radar but now we're ready to get the word out and start helping more small businesses. When talking to small and medium-sized businesses, I think they are starting to realize the benefits of a good digital experience for their clients and for themselves. Runway can provide a custom fit process for your business that is still adaptable to changes depending on how the company likes to do things. Going through the set-up forces businesses to look closely at their current process and ask questions like "Why are we even doing this step in this process? How can we be leaner? What processes can we automate?" It is a great way to review your operations and think about each step you make your customers go through.

Have you thought about starting up a business outside of the UP?
The U.P. is my home. My wife, Brita, and I wanted to raise our family here and we are happy to have been able to achieve that. My oldest child, Grant, is going into 10th grade and I think he has a little entrepreneurial spark while our middle child, Alyssa, is very crafty and already has business ideas for Etsy.com.
We especially enjoy the small-town life and friendly community. Our building is in Hancock, and we can talk to prospective clients located right in our building and just down the street. It's convenient that the Hancock downtown stretch is walkable and nice. I think it's safe to say we are firmly planted in the Keweenaw; I found the support network I need as an entrepreneur and can have the lifestyle that fits what our family enjoys.