By Rick White | January 9, 2023

Since 2018, Michigan Tech alumni Ashley Kern and Erin Thompson have helped colleges around the country increase enrollment, sharpen budgets and improve student retention with predictive analytics company SightLine. Now they're making the college decision easier for high school students and their parents with a site called College Shopper.
While Michigan Technological University continues to offer an outstanding value to an increasing number of students every year, the same cannot be said of many other colleges and universities. For over a decade, demographics have pointed to fewer students graduating from high school nationwide, which has translated into falling enrollment at most institutes of higher education. The pandemic added fuel to the flame. Now, with student debt burdens making headlines and traditional college rankings like those of the U.S. News & World Report falling out of favor, how are students and parents supposed to evaluate a college's value?
Enter Michigan Tech alumni Ashley Kern '15 '17 (B.S., mathematical sciences; M.S., data science) and Erin Thompson '02 (B.S., cognitive and learning sciences). While pursuing what would become the first master's degree in data science ever awarded by Michigan Tech, Kern founded SightLine, a predictive analytics company focused on higher education. Thompson joined the team in 2019 — the same year she completed a graduate certificate in postsecondary education at Tech. Together, they have been working with colleges and universities across the country, using artificial intelligence and advanced analytics to help schools optimize everything from financial aid forecasting to recruitment and retention. Using problem-solving skills they honed at Tech, their goal from the get-go was to improve student outcomes — increasing graduation and job placement rates, as well as starting salary statistics for graduates. Now, they hope to reach prospective students and their parents more directly and help them choose the school that's best for them — a huge life decision Kern thinks should be made based on fit and value, not college rankings.
"Parents and students are more price-sensitive than ever," she says. "Many are reconsidering the value of higher education altogether. The numbers still show that, for most people, a college education is the best investment a young person can make in their future. But that's not true for every degree program, and huge value discrepancies exist from one school to the next. Much like we've been helping colleges and universities use statistics to find the right students, we now want to help parents and students evaluate their options and find the right school."
To do that, SightLine has recently launched the College Shopper, a site that features a collection of free resources to help families decipher and compare opaque higher ed metrics like median net price and real out-of-pocket cost of attendance. They also offer personalized reports comparing up to 25 schools that parents and students are considering, helping them see where students are graduating with solid job prospects. For families seeking additional support in understanding the increasingly complex college market — including those who might not even know where to begin — the College Shopper team also offers one-on-one consultations.
"Say there's a parent of a high schooler trying to help their kid figure out where they should go to college," says Kern. "They can go on the College Shopper site, submit a list of schools, and within 24 hours we'll send back a report that compares real value metrics between those schools. How much is four years of college actually going to cost at those different schools? Do most students really graduate in four years or should the expected price be calculated for five or six years? How much money are you likely to earn when you graduate? If you need to take out loans, how long would it take you to pay them back versus if you had just started working after high school? We look at all that and more. Essentially, we offer different ways of evaluating their return on investment."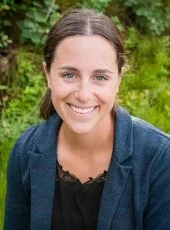 There are rankings and other websites full of numbers you can look at to evaluate a school, of course, but how does a person determine what is meaningful in that data? How should you compare schools and make a decision based on value? Answering those questions is much harder than just gathering information. At the College Shopper, we're trying to simplify the decision process and make it easier on students and parents.
Part of the reason SightLine decided to launch the College Shopper was the company's record of success in consulting with prospective students. Kern says they've helped students find and choose schools that were either not on their radar or low on their list; those students went on to save upward of $100,000 in tuition, room and board. In other cases, the team helped steer students toward degree programs they did not even know existed, setting them on career paths with higher starting salaries or stronger demand in the labor market.
Thompson, a native of the Upper Peninsula who has worked with and for a number of colleges and universities in her career, says the same things that brought her to SightLine originally are driving the push to connect directly with students and parents. "When I first started consulting for SightLine, I had just started a stable corporate job, but I left that job and jumped on board with Ashley because I believed in what we were doing. I loved that we were helping students gain access to education. I think that's so important."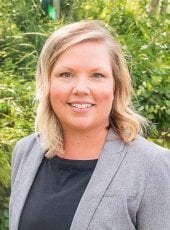 I'm a first-generation student myself. I saw the strides we were making with retention rates and first-gen population and enrollment rates, and it was just really important for me. I believe that if you want to better yourself, you should be able to.
When she looks at the numbers, Kern, like many, sees seismic shifts ahead in higher education. "Like the housing market and the labor market, the education market is changing," she says. "College costs more than it used to, and students and parents are expecting to get more back from the money they spend on college, as they should. I want to help universities navigate these changes, and I want to help students make better, more informed decisions about their educational journey."
Ultimately, Kern aims for SightLine to spearhead the effort to increase transparency in the greater education marketplace — for the benefit of both students and universities alike. And while she understands why someone might be skeptical of her ability to serve both schools and students simultaneously, her conviction has yet to waver; if anything, it's only gotten stronger the deeper she dives into the data.
"Ashley just always wants to do what's right," Thompson says. "She's driven by a really strong moral responsibility to help others, and she's such a genuine, amazing person. She's really confident in her abilities and what she sees in the data, and she wants to move forward to make an impact. She's grown SightLine into something really spectacular. We're on the verge of some really big things here."
It's an opinion shared by those who've been following SightLine's development since its inception, including Patrick Visser, chief commercial officer of Houghton-based business accelerator MTEC SmartZone. Through his Transformative Technologies program, Visser served as an entrepreneurial mentor for Kern in the early days of SightLine. "You've got to be willing to work hard to build a successful start-up business," says Visser. "Ashley has always shown that dedication and passion. She's been successful working with universities, and now she's expanding into new frontiers within education. I feel that with her work ethic and intelligence, she's going to be able to develop solutions that will help high school students and their parents better find the right higher ed institution for their education."
Ed Bailey, a Stanford-educated SightLine advisor who has held leadership positions at Google, LinkedIn and Cisco, agrees with Visser. "College Shopper is the lynchpin to a new era of educational empowerment and focus," he says. "Students and families will get access to new information and make even more effective and life-changing investment decisions. Institutions will have new ways to build incoming classes that will unlock new strategies for schools to make a name for themselves in a complicated and crowded education marketplace. Companies will have new ways to participate in creating and selecting their workforce of the future in a flexible and adaptable way. College Shopper is what we have all been waiting for, and I am excited for my children, clients and educators to get involved."
John Lehman, Michigan Tech's vice president of university relations and enrollment, has known Kern since she was a high school senior being recruited to be part of one of Tech's first classes of Leading Scholars. When she recently shared her ideas about the College Shopper with him, Lehman agreed that Kern is on the leading edge of a coming sea change in higher education. "Empowering people with more and better information, and helping them use that information to make good decisions, will not only make a difference for students and parents, it will also benefit universities like Michigan Tech — schools that create real opportunities for their students in tangible, meaningful, measurable ways. It will help students find us and will help us find Huskies: the difference-makers of the world like Ashley and Erin."
While the College Shopper is just the next element in a much larger vision for SightLine, it also represents a completed circle for Kern and Thompson, leaders who both cut their teeth at Tech and are now using what they learned to help others get the most out of their own education.
"At SightLine, we're constantly asking the questions," says Kern. "How do we help students figure out their educational path earlier? How do we match them to successful outcomes? And so much of this approach comes directly from our experience as students at Michigan Tech."
"Tech has always talked about value, and they've always backed it up," Kern continues. "Tech has some of the best job placement rates in the country. The ROI of Tech is amazing, and it has a great alumni network. My dad consults for a lot of different engineering companies, and literally every single company, if they get an applicant with any sort of relation to Michigan Tech, they all say, 'Oh, they went to Tech? I'm hiring them.' Anywhere in the country. You can't really deny Tech's outcomes. But it's not like that at every university, or in every degree program. With the College Shopper, we want to help families sort through all the numbers and set them up for success as early as possible."
For the full story from MTU news visit Best Fit, Top Value: MTU Alums' College Shopper Makes Choosing the Right College Easier | Michigan Tech News