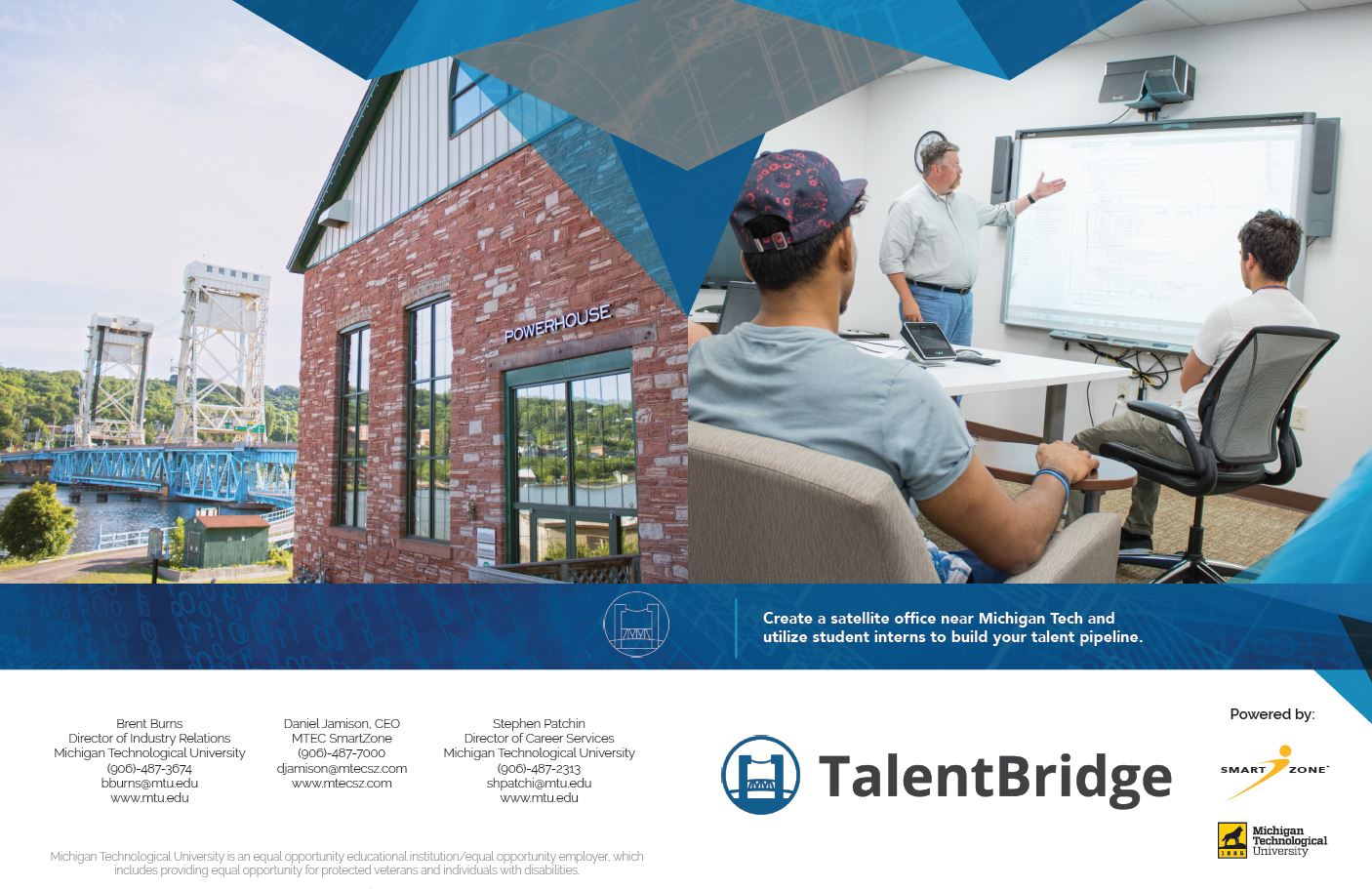 The Move
Worried that setting up a satellite office will be stressful? Let us help. We can set you up with the perfect space and connect you with students, ultimately building your talent pipeline. We also surround you with our support network to keep your startup and maintenance costs low.
Student Talent
Are you struggling to attract and keep top intern talent? With access to crazy-smart students at Michigan Tech it's never been easier. A satellite office close to campus will increase your brand awareness, giving you an edge over the competition. Students live, study, and work right here, where they gain valuable knowledge on your company culture. This makes it an easier decision to stay with you after graduation.
We've got you covered: 
Flex Your Staff Size
High-Quality Talent
Expansion Opportunities
Secure Fiber Network
World-Class Facilities
Vibrant Community
Facilities
Our world-class facilities offer move-in ready office space with 24/7 secure access, fiber-connected internet and state-of-the-art conference rooms. We have two locations near campus to choose from – both secure and contemporary solutions for your expandable satellite office. Take a tour and you'll see for yourself.
SmartZone
MTEC SmartZone is one of 20 SmartZones in the State of Michigan. As a 501(c)(3) non-profit organization directed by the Michigan Economic Development Corporation (MEDC), our mission is to accelerate high-tech business growth to build a prosperous regional economy. We've worked with hundreds of companies, from small startups to Fortune 500.
---
Contact us today to learn more:
MTEC SmartZone
600 E Lakeshore Drive
Houghton, MI 49930
mtec@mtecsz.com
906-487-7000