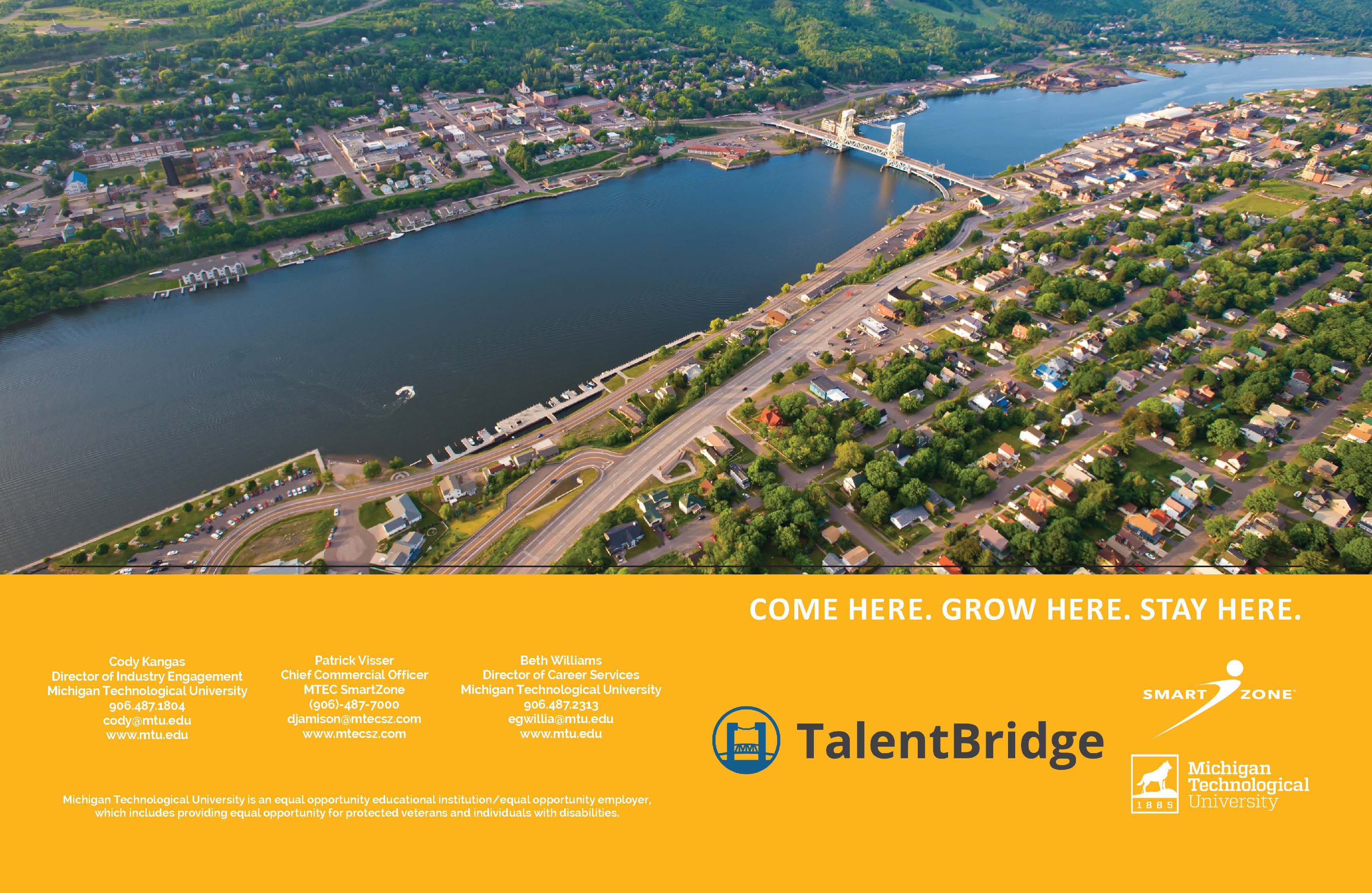 About TalentBridge
MTEC's TalentBridge program was designed to support existing companies seeking to increase their geographic reach, engage in a high-quality pipeline of #crazysmart students and graduates at Michigan Technological University, leverage university reach opportunities, and live in a safe, thriving community.
University Research
MTEC works collaboratively with Michigan Tech's Industry Relations Team. Research at Michigan Tech brings faculty, graduate and undergraduate students, community, government, and industrial partners together to create the future. Home to 18 research centers and institutes, interdisciplinary work at Michigan Tech is occurring in sectors such as mobility and autonomy, space, data and sensing, energy, life sciences, and health, and cybersecurity.
Companies Served
We are proud to say many companies have participated in TalentBridge over the years. With the 4th Industrial Revolution focusing on decentralization, more businesses are taking advantage of satellite office opportunities to also increase their economic footprint, brand recognition, and customer base.
Here are some of the companies already served:
Ford Motor Company
GE Aviation
Dematic
Jackson National Life Insurance
Itiviti (Sweden)
Systems Control
Facilities
Our high-quality facilities offer move-in ready office space with 24/7 secure access, fiber-connected internet, and state-of-the-art conference rooms. Your company will be connected with a dynamic, innovative environment of startups.
MTEC offers three facilities for your expandable satellite office:
Michigan Tech Lakeshore Center
MTEC Powerhouse
Jutila Center
Look North
We encourage you to consider Hougton-Hancock, not just for the business resources, talent, and research opportunities, but because the Upper Peninsula also provides a unique ability to live where your outdoor playground is just steps from your office. Our community is a center-point for year-round outdoor activities with trails for hiking, biking, ATVs and snowmobiling, miles of water access, including the world's largest freshwater lake, and a ski hill right in town.
We've got you covered: 
Flex Your Staff Size
High-Quality Talent
Expansion Opportunities
Secure Fiber Network
World-Class Facilities
Vibrant Community
Or contact us today to learn more:
MTEC SmartZone
600 E Lakeshore Drive
Houghton, MI 49930
mtec@mtecsz.com
906-487-7000