1 Million Cups – Keweenaw Mountain Lodge
October 10, 2018 @ 9:00 am

-

10:00 am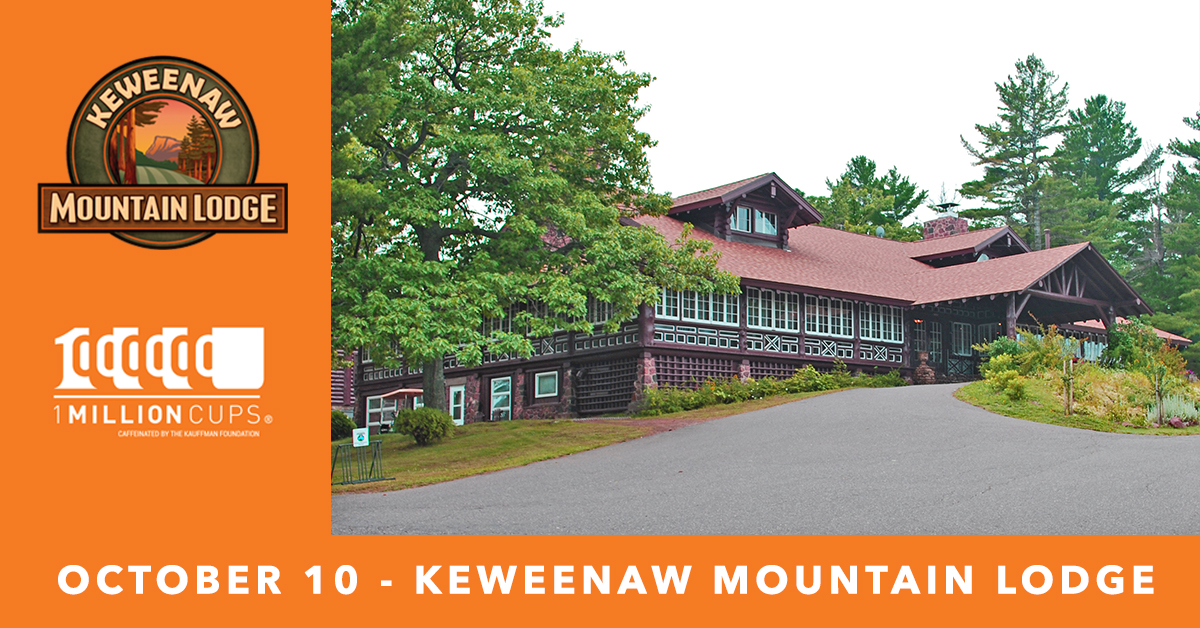 HOUGHTON, MI (September 26, 2018) – The next 1 Million Cups event will take place on Wednesday, October 10th at 9am at the historic Keweenaw Mountain Lodge in Copper Harbor. The event is free and open to the public, with coffee being provided.
John Mueller, the new owner of the Keweenaw Mountain Lodge, will be sharing the vision for the lodge going forward and talking with attendees to gather feedback and ideas on how to execute on the vision. With the buzz and excitement of the new purchase, the entire community is welcome to attend and learn about the change that new ownership will bring.
Built in the 1930s, the Keweenaw Mountain Lodge is a historic and iconic property that has been accommodating to locals and visitors for over 80 years. The staff at the lodge look to continue to support the fun, joyous, and adventuresome nature of the Keweenaw.
After the presentation, attendees are welcome to find a comfortable seat, connect to the free Wi-Fi, and work remotely from the lodge for the rest of the morning. The grill will open at 11am and lunch will be available for purchase.
Based on the notion that entrepreneurs discover solutions and engage with their communities over a million cups of coffee, the Ewing Marion Kauffman Foundation developed 1 Million Cups in 2012—a free program designed to educate, engage and inspire entrepreneurs around the country. Through the power of volunteers, 1 Million Cups has grown to more than 180 communities.
As a program of the Kauffman Foundation, 1 Million Cups works with entrepreneurs, empowering them with the tools and resources to break down barriers that stand in the way of starting and growing their businesses. Mr. Kauffman believed it was a fundamental right for anyone who had a big idea to be able to bring it to life— and these events are organized to fulfill that mission.
The 1 Million Cups Copper Country events are organized and hosted by volunteers from MTEC SmartZone, Finlandia University, Michigan Technological University, and KEDA.
For more information, visit www.1millioncups.com/coppercountry